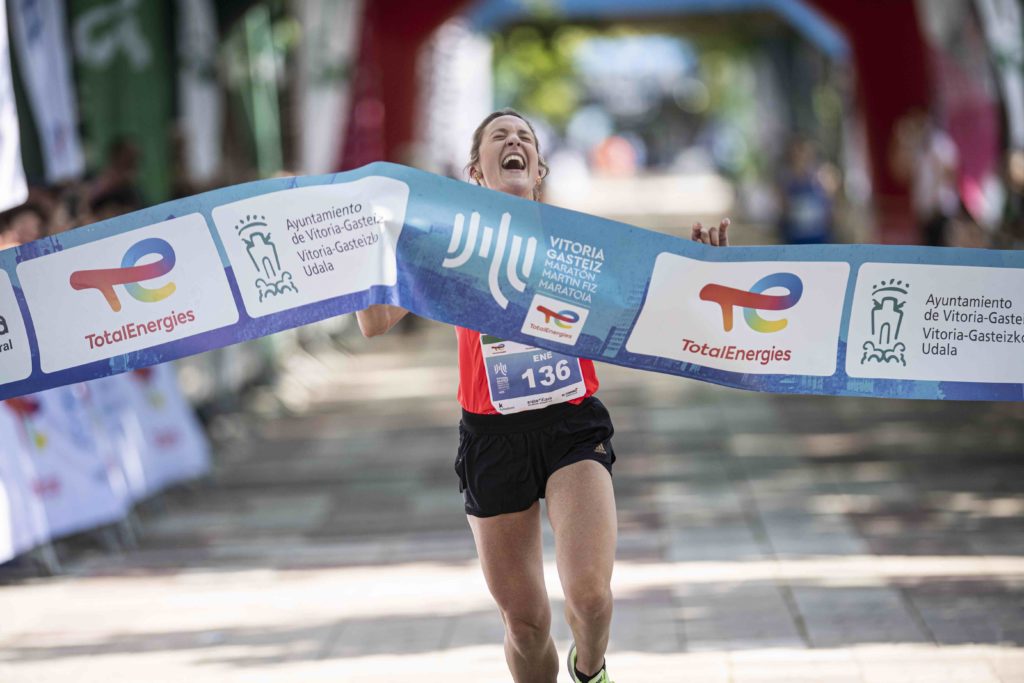 Ander Barrio is proclaimed champion in a time of 2:35:24. The winner in the women's category, Eneritz Iraola, won with a time of 3:19:55.
A new edition of the running festival kicked off in one day and with 4 distances that awaited the more than 2,000 athletes who today dressed in blue to celebrate the 19th. Edition of the Martín Fiz Marathon. At 8:30 in the morning, the Paseo de Cervantes welcomed the athletes ready to face the different distances offered by TotalEnergies Vitoria-Gasteiz Martín Fiz Marathon: 42k, 21k and 10k.

10k – Popular race
The forecasts have been fulfilled in both categories. The first runner to cross the finish line was Pablo Benito, winner of the last edition in the 42k distance. He stopped the clock in 0:30:25, improving the previous edition's time by more than 2 minutes. A few seconds later, in 2nd position, the Guipuzcoan rider from Guipuzcoa arrived at the finish line David Martin with a time of 0:30:56. In third place, also from Guipuzcoa, Alberto Bellosillo completed the 10k in a time of 0:31:28.
In the women's classification, Pilar Moran was the first woman in the 10k distance with a time of 0:36:28, also improving the 2021 mark. After Zaira Acedo 0:38:28, the podium was closed by Zaira Acedo from Navarre. Cristina Alfaro with a time of 0:40:18.
21k – Half Marathon
The men's podium was completed by Borja Abecia with a time of 1:09:54, Gustavo Gil (1:10:08) and Thomas Schuh 1:10:21 from the United Kingdom.
The Cantabrian Sara Trelles took the victory in a time of 1:26:49. Behind her, the runner María Teresa Iñigo crossed the finish line in 1:29:24. Inés Martínez closed the podium in 1:29:50.


42k -Marathon
Ander Barrio started as favorite and so it has been. He conquered the main event in 2:35:25, becoming the new champion of the TotalEnergies Vitoria-Gasteiz Martín Fiz Marathon, with the Biscayan Juan Carrascal (02:37:38) in second place. The podium was closed by Toñin Blanco in a time of 02:39:58.


In the women's race, the first to complete the 42.195 kilometers was Eneritz Iraola in a time of 3:20:57 and said she felt supported by the public of Vitoria. In second position, Susana Lopez finished in 03:23:58. The third position went to Lurdes Alonso 03:36:40.